This year the 'Future of Communities – Power to the People' Conference was held on the 15th & 16th October in Melbourne.
The event was a great learning and networking experience with participants and presenters from all over the world – Australia, New Zealand, UK, USA, Canada and East Timor. We would like to thank all the presenters and participants for their contributions.
Below is a list of presentations available for download:
Plenary presentations (Wednesday, 15th October)
Deepening Community: finding joy together in chaotic times
Phil Koperberg, former NSW Rural Fire Service Commissioner and 2013/14 Blue Mountains Fire Recovery Co-ordinator. Phil spoke on the theme 'Out of the Ashes – Bushfire Recovery Download Presentation
Peter Kenyon, Director, Bank of IDEAS reflecting on the Christchurch earthquakes – a time of devastation but perhaps also an opportunity to view utopia? Download Presentation
Paul Born. Paul is the President and co-founder of the Tamarack Institute which since 2001 has provided leadership in Canada on issues of citizen engagement, collaborative leadership and community innovation. (Pre-record) View Presentation
Plenary presentations (Thursday, October 16th)
Case Study
The inspiring case study of community engagement in South Invercargill, Janette Malcolm, Co-ordinator, South Alive, South Invercargill, NZ Download Presentation
Workshops
Creating a Culture of Community Engagement Across Council
Charlotte Carlish, Executive Manager, Communications and Engagement, City of Subiaco (WA)
Download
Creative Use of Social Media to Engage Disengaged Community
Keren Flavell, Wholesome Media, founder of Town Hall Social
Download
Is Community Old-Fashioned? What Would A 21st Century Village Look Like?
im Diers, Neighbour Power (Seattle, USA)
Download
Social & Cooperative Enterprise – pathways to market and values based community ventures
Peter Tregilgas, Social Enterprise Director
Download
Using Heritage to Mobilise Community Reinvention – David Wilson, Heritage Futures (NZ) (Presentation coming soon)
Community – A cosmos of conversations, Russell Deal, St Luke's Innovative Resources (no presentation available)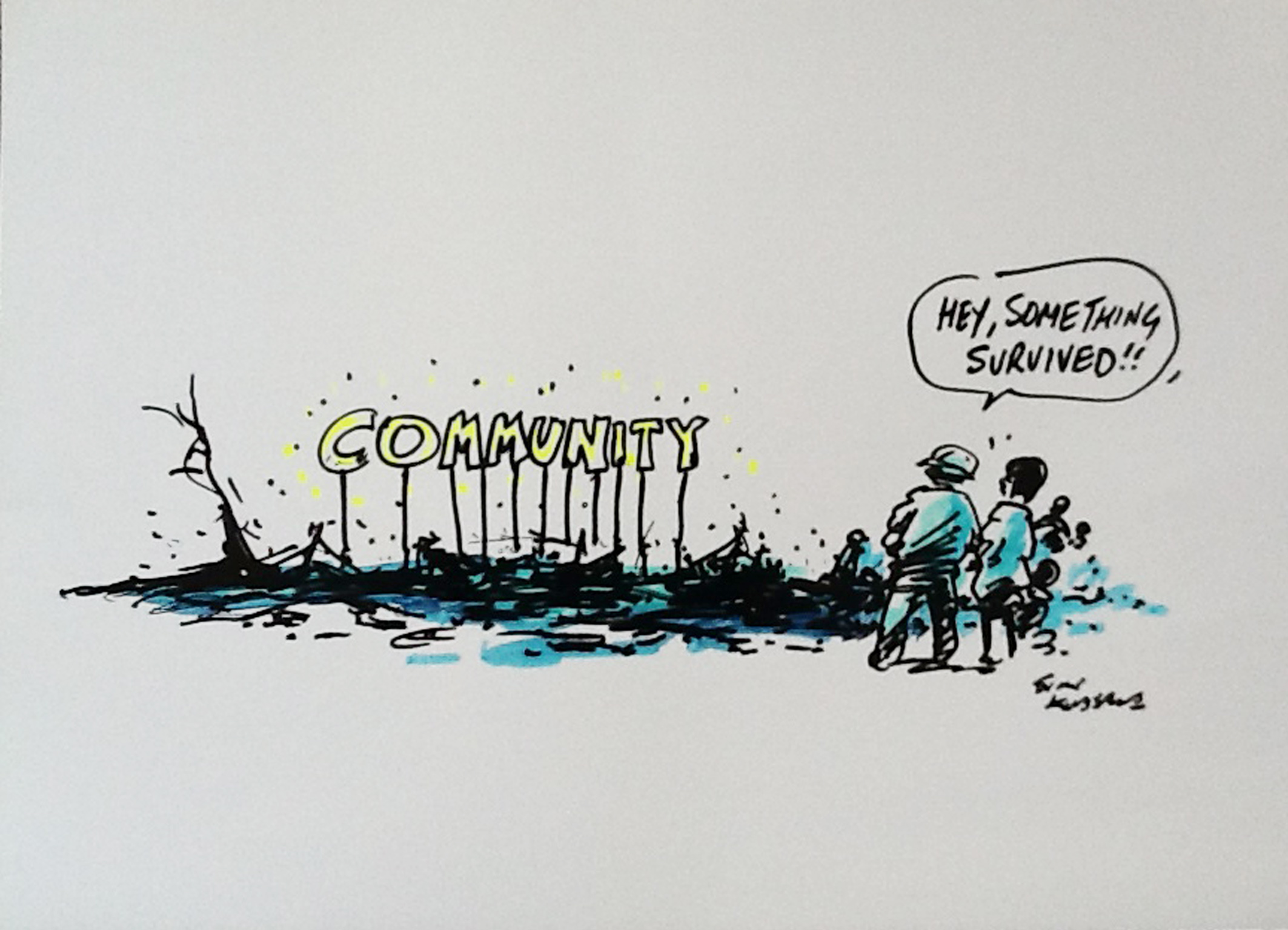 A special  feature of this year's Future of Communities – Power to the People' Conference was the inclusion of Simon Kneebone, one of Australia's leading social comment cartoonists, who, throughout the event, captured many of the Conference's themes and learning gems through his drawings. The cartoons were auctioned to all those who attended with proceeds going to a project nominated by one of the participants. Participants were very generous in their bidding and we raised $1950 for Human Care Welfare – an unfunded volunteer run organisation which assists asylum seekers in Sydney with English classes, art, sport, music and L-plate tests. Thanks to Simon Kneebone and all those participants who gave donations. To see more of the cartoons Simon did for the Conference, visit the Bank of IDEAS Facebook page